October 30, 2018 / Leave a comment
On October 26, 10-12, a presentation of the Trade in Ideas Program took place at the WTO for the Working Group on Trade and Transfer of Technology (WGTTT). El Salvador, a participant in the Trade in Ideas Pilot-study, had asked the EC, through Sweden, the funder of the pilot-study, to give an overview of the principle and program in eluding some early results.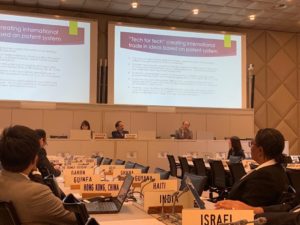 If any additional information about the program is desired, please email: eskil@ullberg.biz
Enclosed is the powerpoint from the meeting. See: Powerpoint for WGTTT, 2018-06-27
WGTTT: https://www.wto.org/english/tratop_e/devel_e/dev_wkgp_trade_transfer_technology_e.htm
The Ullberg Report
*** SIGN UP TODAY *** FREE NEWSLETTER/REPORT
* These fields are required.
Archives
Archives