June 29, 2017 / Leave a comment
Trade Dialogues Lecture Series
As part of its Trade Dialogues Series, the WTO will be inviting leading technical experts to share their insights with WTO members and the broader trade community on important economic and policy developments.
I will be discussing the role of organized markets in facilitating this global trade in ideas as well as the implications for policy making in the area of intellectual property, education, and taxation. The talk will be recorded an available at WTO.org here and on Youtube (2 min short version, full lecture).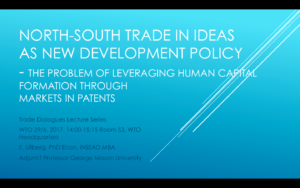 The Ullberg Report
*** SIGN UP TODAY *** FREE NEWSLETTER/REPORT
* These fields are required.
Archives
Archives